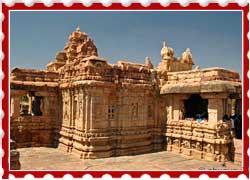 The majestic Virupaksha temple stands proudly amidst the ruins of Hampi, the erstwhile capital of the mighty Vijayanagara Empire. The temple predates the Vijayanagara period and underwent additions and renovations during the Chalukyan and Hoysala dynasties. But the magnificent temple structure of the present came up during the Vijayanagara rulers, under whom local art and culture flourished like never before.
While the city of Hampi was pillaged by marauding invaders, the Virupaksha temple stood erect and worship continued throughout the ages. The deity of Virupaksheshwara or Pampapathi, an incarnation of Lord Shiva, is worshipped here. The temple also houses a shrine of Vidyaranya, the spiritual guide of the Vijayanagara rulers.
Among the three lofty towers of the temple, the nine-storied eastern tower stands out with its height of 160 feet. This tower has been built such that an inverted shadow of this huge tower falls on the western wall of the temple through a small hole behind the sanctum. In the month of February, the annual chariot festival is celebrated with religious fervor.