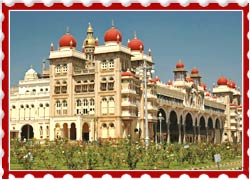 The monuments of Karnataka offer plenty to tourists and aficionados of history. They take you to the glory and grandeur of a bygone era. Now major tourist attractions, these monuments in Karnataka were built to serve specific purposes. If the forts were bulwarks against marauding enemies, the palaces were symbols of the opulence of royal families.
The Karnataka monuments have spawned tourism industries in their respective locations. People come from distant places to marvel at their architecture and to delve into the legacies of ancient kingdoms. If a tour to Karnataka is on the cards, don't miss the monuments of Karnataka. They will make you come here again and again.
Bull Temple
Located in the Basavanagudi region of Bangalore, the Bull temple is one of the prominent landmarks of the city. The name Basavanagudi literally translates to mean "The Temple of the Bull". Dedicated to Nandi, the mount of Lord Shiva, the Bull temple was built by Kempe Gowda in the 16th century.
Badami Caves
Located on a hilly slope atop a flight of about 200 steps, the Badami cave temple complex comprises four ancient rock-cut caves. Of the four temples, three are Brahmanical temples while the fourth one is a Jain cave.
Bidar Fort
Originally built in 8th century and strengthened and renovated in 1428 by Sultan Ahmad Shah Bahamani, the Bidar fort boasts of a dominating presence in the Bidar landscape.
Belgaum Fort
The Belgaum fort is a major tourist attraction in Belgaum. Belgaum was ruled by a number of dynasties and as such the fort has undergone many additions and renovations throughout its existence.
Gol Gumbaz
Gol Gumbaz is the mausoleum of Muhammad Adil Shah (1627 -56), the seventh ruler of the Adil Shahi dynasty. A fine specimen of Adil Shahi architecture, this mammoth tomb is a dominant landmark of Bijapur.
Gulbarga Fort
The massive Gulbarga fort is part of the earliest examples of Islamic architecture in Karnataka spawned by the Bahmani Sultanate. The fort was originally built by Raja Gulchand, a feudatory of the Orangal Kakatiyas.
Hampi Ruins
Once the majestic capital of the powerful Vijayanagara Empire, Hampi is now a ruined city of ancient palaces and forts. Founded by Harihara and Bukka in 1336, the landscape of Hampi was dotted with magnificent palaces, sacred temples, massive fortifications, baths, markets, pavilions, and stables for royal elephants.
Lord Bahubali, Shravanabelagola
One of the holiest Jain pilgrimages, Shravanabelagola is synonymous with the colossal monolithic statue of Jain saint Lord Gomateshwara. Shravanabelagola occupies a significant place in the Jain legacy of Karnataka, for being the place where Chandragupta, the founder of the Mauryan dynasty, became a Jain ascetic after relinquishing his throne. The place where Chandragupta breathed his last was named Chandragiri.
Mysore Palace
With its majestic architecture and royal aura, the Mysore palace is the crown jewel of Mysore, the city of palaces. The official residence of the Woodeyar dynasty, the Mysore palace was first built in the 14th century.