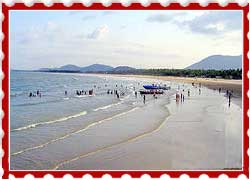 Nestling a host of sacred pilgrimages and stunning beaches, Uttara Kannada is one of the most important tourism destinations in Karnataka. Karwar, the administrative headquarters of the district, has one of the most scenic beaches of Karnataka.
Going back to history, Uttara Kannada was part of the great Kannada empires that held sway over vast regions of Karnataka. After being a part of the Kadamba kingdom from 350 - 525CE, Uttara Kannada came under the dominions of the Chalukya dynasty. Then a succession of dynasties such as the Rashtrakutas, Hoysalas and the Vijayanagara Empire ruled over this land. Uttara Kannada was the site of the Third Anglo-Maratha War in 1818.
Tourism in Uttara Kannada has capitalized on the plethora of holy shrines that abound this place. Banavasi and Murudeshwar are sacred pilgrimages for Hindu devotees. The landscape is a visual delight with plenty of green cover all around. The Dandeli Wildlife Sanctuary is a major tourist attraction for its rich flora and fauna. Uttara Kannada is home to some of Karnataka's most picturesque beaches such as Devbagh, Karwar and Murudeshwar. No wonder a large number of tourists travel to Uttara Kannada in search of a perfect getaway.