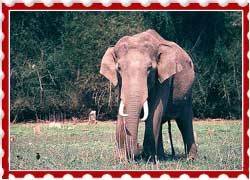 Regarded the largest wildlife sanctuary in Karnataka, the Dandeli Wildlife Sanctuary is located 485 km from Bangalore. The serpentine tributaries of River Kali fork through the lush forests and breathtaking valleys of the sanctuary. Syntheri rocks, an awesome monolithic granite structure, is located 35 kms. from the Dandeli Wildlife Sanctuary. Dandeli is a heaven for nature enthusiasts with an abundance of trekking trails and fishing spots.
The magnificent Virnoli Rapids, the Supa Dam, Nagajhari Viewpoint, the Kulgi Nature Education Camp, the Kavla Caves with their Shivling-like stalagmites, and Sykes Point which offers a stunning view of the Kalinadi Valley are other major attractions of the Dandeli Wildlife Sanctuary.
Flora at Dandeli Wildlife Sanctuary
The Dandeli Sanctuary abounds with rich forest that is typical moist deciduous and semi evergreen type.
Fauna at Dandeli Wildlife Sanctuary
The sanctuary plays host to a multitude of animal species including the Deer, Sloth Bear, Panther, Tiger, Gaur, Elephant, Wild Dog, Civet Cat, Bison, Jackal, Langur and Giant Flying Squirrel, besides a variety of colorful birds and reptiles.
How to Reach Dandeli Wildlife Sanctuary
By Air
The nearest airport is Dabolim (Goa), 145km.
By Rail
Major railheads around Dandeli are: Londa - 25km, Dharwad - 57km, and Hubli - 72km.
By Road
Dandeli Sanctuary is connected by road to Dharwad (57km), Hubli (72km), Belgaum (109km), Goa (145) km, and Bangalore 480km.