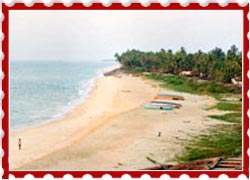 The 320-km long coastline of Karnataka is enriched with picturesque beaches that provide an idyllic getaway for weary souls looking forward to unwind amid enchanting locales. Miles of silver sand and the azure waters of the sea beckon those craving for an escape from the hustle and bustle of the city life.
While the secluded beach of Devbagh will bring tranquility to your heart with its unspoiled charm, the majestic sunset of the Marawanthe beach will prove to be an enthralling sight. The unique basalt rock formations of St Mary's Island will make you marvel at the whims of nature.
Besides strolling in these scenic beaches, one can explore the sacred temples and other monuments that dot the local towns. Mingle with the native folks to enjoy a sip of the indigenous culture.
Devbagh Beach
The picturesque Devbagh beach is located on an island that can be reached by speedboats from the Karwar coast. This secluded beach dotted with casuarina groves provides the perfect getaway from the din of city life. Sparkling azure waters and the ivory beach will soothe your weary soul.
Karwar Beach
The unspoiled, secluded beach of Karwar is an ideal destination for vacationing and recreation. This scenic beach lies on a thin strip of tropical sand tucked away between the Western Ghats and the Arabian Sea. The palm fringed ivory beaches and the serene ambience of Karwar provides a perfect retreat for avid tourists.
Marawanthe
One of the most scenic beaches in Karnataka, Marawanthe beach is located 50km from Udupi along the NH-17 bordered by the Arabian Sea on one side and the Souparnika River on the other side. This stunning stretch of land of golden sands and blue water is an ideal spot for unwinding.
Murudeshwar Beach
Located around 165km from Mangalore, the temple town of Murudeshwar is also known for its picturesque beaches. Dotted with coconut and areca groves, the Murudeshwar beach is surrounded by the sea to the west and undulating hills to the east. While the sacred shrine is thronged by devout worshippers, the beach is an ideal refuge for vacationers.
St Mary's Island Beach
Located 58 km north of Mangalore, the St. Mary's Island beach is special for the unique formation of basalt rocks which have crystallized into columns and split into vertical hexagonal blocks. This group of islands is accessible by ferry from Malpe which is a major fishing harbor.