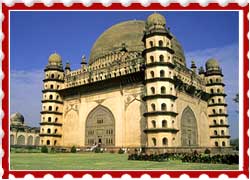 The plethora of ancient mosques, mausoleums, palaces, fortifications that dot the landscape of Bijapur stands as mute witness of the grandeur of this one-time capital of the Adil Shahi kings (1489-1686). One of the largest districts in Karnataka, Bijapur rose to prominence during the reign of the Kalyani Chalukyas who held sway between the tenth and Eleventh centuries. They christened the city Vijayapure, meaning "the City of Victory", from which the present name Bijapur has been derived.
Allauddin Khilji, the Sultan of Delhi, annexed Bijapur towards the end of the 13th century. The baton passed to the Bahmani Kings of Bidar in 1347 and as the Bahmani power faded into the sunset, the Adil Shahi dynasty took possession of Bijapur. The Adil Shahi throne was eventually usurped by Mughal Emperor Aurangzeb in 1686.
During its halcyon days under the Adil Shahi dynasty, Bijapur witnessed the construction of architectural monuments galore. The Adil Shahis patronized the building of mosques, tombs and a number of palaces. Among them, the "Gol Gumbaz" is an architectural wonder, attracting thousands of tourists from all over the world every year. Travel to Bijapur to experience its rich heritage.