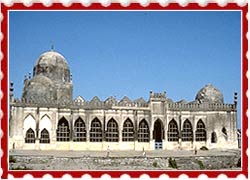 From being a Hindu city to becoming the capital of one of the great Muslim kingdoms to dominate the Deccan, the city of Gulbarga is steeped in rich history. Gulbarga is a unique confluence of Hindu and Muslim cultures and contains some of the earliest examples of Islamic architecture in Karnataka. Gulbarga tourism has capitalized on these historic monuments.
Gulbarga derives its name from the word Kaliburgi which stands for stony land in Kannada. The Chalukyas of Badami and the Hoysalas of Dwarasamudra were the major Hindu dynasties to have ruled Gulbarga. The first Muslim kingdom came up with establishment of the Bahmani Sultanate in 1347 by Hassan Gangu, who chose Gulbarga to be his capital.
When the Bahmani dynasty eventually collapsed, the kingdom broke up into the five independent Deccan sultanates, Bijapur, Bidar, Berar, Ahmednagar and Golconda. The present Gulbarga district came partly under Bidar and partly under Bijapur. In 1956 when the state of Hyderabad was partitioned among neighboring states along linguistic lines, most of Gulbarga district became part of Mysore state, later renamed Karnataka, excluding two taluks which were annexed to Andhra Pradesh.