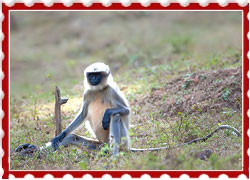 Touted to be the second largest wildlife sanctuary in Karnataka, Dandeli is located at a distance of approximately 485 km from the capital city of Bangalore. The serpentine tributaries of River Kali fork through the lush forests and breathtaking valleys of the sanctuary. Dandeli is a heaven for nature enthusiasts, what with its abundance in wildlife, apart from numerous breathtaking trekking trails and pleasant fishing spots.
The magnificent Virnoli Rapids, Supa Dam, Nagajhari Viewpoint, Kulgi Nature Education Camp, Kavla Caves (with their Shivling-like stalagmites), and Sykes Point (which offers a stunning view of the Kalinadi Valley) are other major attractions of the Dandeli Wildlife Sanctuary. Syntheri rocks, an awesome monolithic granite structure, stand located 35 km from the wildlife sanctuary and definitely merits a visit from the tourists coming here.
Flora
Dandeli Wildlife Sanctuary abounds with trees that are typically moist deciduous and semi evergreen type in nature. The captivating landscape of the sanctuary lets you enjoy the wildlife amidst heaving and surging steep slopes of the hills, striking deep ravines and lush green forests. The swaying bamboos and sylvan surrounds only seem to add to its beauty.
Fauna & Avifauna
The sanctuary plays host to a multitude of animal species including the deer, sloth bear, panther, tiger, gaur, elephant, wild dog, civet cat, bison, jackal, langur and giant flying squirrel. Then, there is a variety of colorful birds, like magpie robin, crested serpent eagle and golden backed woodpecker. You can also hope to see hornbills, darters and egrets therein. The reptilian and amphibian fauna of the park include a variety of ruffles and frogs.
How To Reach Dandeli
Dandlei wildlife sanctuary is a treat to watch for the nature lovers and wildlife enthusiasts as it is home to some rare wild animals and bird species. It is one of the major natural habitats for wild animals in India and one of the most preferred tourist destinations in the South Indian state of Karnataka.
Things To Do In Dandeli
Dandeli Wildlife Sanctuary is home to some rarely seen species of birds and animals. Nature lovers and wildlife enthusiasts have found an ideal spot in Dandeli to check out on the diverse range of wild animals inhabited in this park adorned with a rich natural splendor.
Dandeli Weather
The climate in Dandeli is temperate right through the year. The summer season prevails from March to May with an average temperature of about 33 degree C. winters in Dandeli commence from December and last up to February with an average temperature of about 26 degree C.