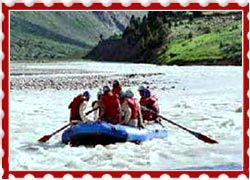 Dandeli Wildlife Sanctuary is home to some rarely seen species of birds and animals. Nature lovers and wildlife enthusiasts have found an ideal spot in Dandeli to check out on the diverse range of wild animals inhabited in this park adorned with a rich natural splendor. A widely preferred destination to see wild life in their natural habitat, Dandeli is much frequented by tourists. The article lists some of the interesting fun activities to do in Dandeli wildlife sanctuary to make it a lifetime experience.
Fun Activities To Do In Dandeli
Wildlife Viewing
Dandeli is a natural habitat for a large number of wild animals and is very rich in flora and fauna. The forests have a mix of deciduous and evergreen trees like Bamboo and teak plantations. Abundant wild life is at display in this forest reserve which is home to sloth bears, barking dear, Indian pangolin, the Malabar giant squirrel, elephants, wild pigs, tigers, rare black panthers, wild dogs, monkeys, deer, mongoose and many others. Dandeli is an excellent choice for all the animal lovers.
Bird Watching
Some of the birds that are to be found in Dandeli are Great Pied Hornbill, Blue-Throated Barbet, Peregrine falcon, Malabar Pied Hornbill, Indian Nightjar, Mountain Imperial Pigeon, Pied Bushchat, Green Sandpiper, House Sparrow, Forest Wagtail and Oriental White Eye. A bird-watching paradise, Dandeli is a great option for the enthusiastic birdwatchers to see a lot of rare birds. Listening to the exotic birdsongs will just the double the fun.
River Rafting
Water sports are one of the main attractions of Dandeli. White water rafting at the Virnoli Rapids on the Kali River will be a thrilling experience for the adventurous souls. Almost 9-14 kms of rafting facility is available in the Kali River with class 3 rapids named Adi's beard, The stitch, Snuggler's trove, Stanley's squeeze and many more continue for over 2-3 hours. Trained guides accompany the tourists who also give them basic lessons on rafting. Many tour operators organize for rafting with excellent facilities for the tourists.
Safaris
Jeep safari is an exciting activity for the tourists and an opportunity to sight the extensive and exclusive wild life in the Dandeli sanctuary. Take a guide and experienced person along and unravel the mysteries of the forest wrapped with lush green plants and rare animals. Jeep safaris are known for uninhibited fun and adventure. So, donít miss out on the safari fun.