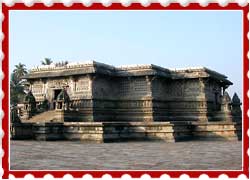 The erstwhile capital of the Hoysalas, Belur's claim to fame is its magnificent temple complex. The Hoysalas were prolific temple builders and their reign led to a profusion of beautiful temples in and around Belur. Along with Halebid, the temples of Belur represent the architectural dexterity of the Hoysala craftsmen.
The Chennakeshava temple is the most exquisite manifestation of Hoysala temple architecture. Built in 1117 AD by Hoysala king Vishnuvardhan to celebrate his victory over the Cholas, the temple is the culmination of over hundred years of painstaking craftsmanship. The star-shaped temple also has images of the 10 incarnations of Vishnu accompanied by those of his two wives- Bhu (earth) and Lakshmi (goddess of wealth).
Besides the Chennakeshava temple, Belur has other sacred shrines such as Veeranarayana temple, Kappe Chenniga Raya temple and Saumya Nayaki temple.
Chennakeshava Temple
A supreme example of Hoysala temple architecture, the Chennakeshava temple in Belur, Karnataka leaves one spellbound with its exquisite structure. The temple was constructed in 1117 AD by Hoysala king Vishnuvardhan to celebrate his victory over the Cholas at the battle of Talikad.
How to Reach
One can reach Belur from district headquarters Hassan, located 40 km away. Buses ply in regular intervals from Bangalore and Mysore to Hassan. You can either hire taxis in Hassan or take buses plying from Hassan to Belur.
Belur Tourist Attractions
Belur, falling under the Hassan district of Karnataka, is surely a place that is worth visiting on a tour of the city. It forms a major attraction specifically for those people who are interested in exploring the rich legacy of a place, though its ancient monuments.
Belur Climate
Belur, situated in the Hassan district of Karnataka, enjoys a tropical climate, just like the neighboring cities. Neither does it experience excessively high a temperature in the summer, nor is there biting cold in the winters. The summer season in Belur starts from the month of March and lasts till June.