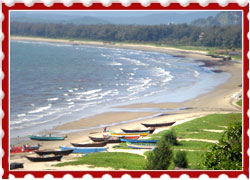 Karwar is a tranquil port town with a pleasing ambience situated 100 kms from Goa and 260 kms north of Managalore based in South India. It is the administrative headquarter of the Uttar Kannada district in Karnataka. A seaside town based on the banks of Kali River which flows along the western coast of the Indian peninsula, the quiet town of karwar is an ideal holiday destination for those who are enamored by the sight of water bodies and deep-blue beaches. Karwar lies at a distance of 15 kms from south of the Karnataka-Goa border and 519 kms northwest of Bangalore. The present day Karwar town is an entirely new settlement.
History
The historical significance of Karwar can be traced back to the colonial era in India. The British used made this town their district headquarter in 1862. It was frequented by Arabs, Dutch, Portuguese, French and later, the British as it has been an ancient site of sea trade. Ibn Battuta, the Moroccan scholar and traveler, has passed through this route during some of his journeys. The town fell under the Bombay presidency ruled by the British and was described as a first rate harbor between Bombay and Calcutta. The name 'Karwar' was earlier spelled as 'Carwar'.
Attractions
Besides a number of famous beaches, karwar has a plethora of historical monuments and sacred temples, a tempting invitation to tourists who have a rich sense of history. The town is a gateway to some other nature expeditions in the region. The backdrop of Karwar depicts all the possible hues, from dull brown to amber shades of hills to lush green coast. A real treat to experience, Karwar is the perfect getaway for tourists looking to soothe their nerves in the luxurious green environs and savor the serene beauty of nature.
How to Reach Karwar
Though Karwar does not boast of a big size, it sure is one of the important destinations in Karnataka. The administrative headquarters of Uttara Kanara district, it served as an important port city for sea trade in the past as well and was frequented by Arabs, Portuguese, British and the French.
Things To Do In Karwar
Karwar is a beautiful seaside town and is a perfect destination for those who love the sight of sea and associate water sports with their idea of an exciting holiday. However, this picturesque town has a lot to offer than just the water sports to keep the tourist glued to its obvious charms.
Karwar Tourist Attractions
The picturesque small port town Karwar is an ideal destination for those who want to spend some time surrounded by the beguiling charms of deep blue sea. The splendid landscape of the town is nothing less than a feast to the eyes. Apart from the exotic beaches and appealing locales
Karwar Climate
Karwar, the administrative headquarters of Uttara Kannada district, experiences a tropical climate. The place gets drenched by rains almost throughout the year, keeping the temperature moderate. Being bounded by mountains on one side, Karwar boasts of a pleasant weather