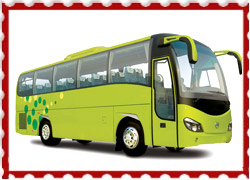 Though Karwar does not boast of a big size, it sure is one of the important destinations in Karnataka. The administrative headquarters of Uttara Kanara district, it served as an important port city for sea trade in the past as well and was frequented by Arabs, Portuguese, British and the French. Apart from trade, Karwar is also significant from tourism pint of view, whether you are looking for a trip filled with adventure or are looking for spending some time in peace and solitude. In this article, we will tell you all about how to reach karwar.
Traveling to Karwar
By Air
The nearest air link from Karwar is provided by the Dabolim Airport of Goa, situated approximately 90 km away. It is well connected with all the major cities of India, such as Bangalore, Mumbai, Chennai and Delhi, by direct and regular flights. Indian Airlines and Jet Airways are amongst the major airlines that serve the airport. From here, you can take a taxi or a bus to Karwar, with the former costing around Rs 1,500.
By Rail
Karwar has a railways station of its own, situated about 2 km away from the main town. A major station on Konkan railways, it has a number of important trains, such as Matsyagandha and the Netravati Express, making a stoppage. From the station, you will easily get an auto rickshaw for going inside the town.
By Road
Karwar is situated at a distance of 105 km from Panaji (Goa), 298 km from Mangalore, and 513 km from Bangalore. It boasts of a good road network, which connects it with all the major cities of Karnataka as well as the neighboring states. There regular KSRTC buses from Karwar to the nearby cities. In case you want to drive to the place, from Bangalore, take NH4 to Tumkur and then NH206 towards Shimoga. After Bhadravathi, head towards Honavar, via Sagar and from there, take NH17 for reaching Karwar