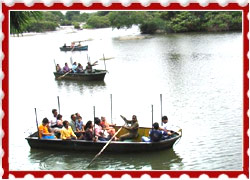 Karwar is a beautiful seaside town and is a perfect destination for those who love the sight of sea and associate water sports with their idea of an exciting holiday. However, this picturesque town has a lot to offer than just the water sports to keep the tourist glued to its obvious charms. Pilgrimage and water falls are a few of the other major attractions for the tourists which deserve not to be missed out. Below mentioned are some of the exciting fun activities to do in Karwar based in the South Indian state of Karnataka.
Fun Activities To Do In Karwar
Boating
Karwar offers a lot of boating opportunities in the Kali River. Sailing in a boat in the quiet waters and watching the sun rising out of the river is a beautiful and awe-inspiring sight. For the lovers of boating, Karwar is one of the best destinations to check out due to its stunning locales and clear water bodies. Enjoying a round of boating several kilometers up the Kali River will be one of your memorable experiences.
Water Sports
Karwar enjoys a reputation of offering a versatile range of water sports to the tourists and one of them is banana boat riding. Banana boat rides can add thrill to your boating experience and make your trip a truly adventurous one. Other water sports that Karwar is well known for are kayaking, water surfing and water scooter ride. For people who are seeking some adventure from water, Karwar is just the place to be.
Nature Walk
Nature walks are another refreshing thing to do in Karwar. Long strolls exploring the beautiful landscape of Karvar is going to be a rejuvenating experience. You can go to the amazing beaches of Karwar early morning to watch sunrise. In the evening tourists can walk inside the town and check out the local attractions, ffod joints and restaurants, if they wish so.
Pilgrimage
Karwar is an immensely popular pilgrimage destination and visitors flock the temples in and around Karwar to offer prayer to the deities. These temples are one of the major attractions for which visitor from all across south India visit Karwar. Some of the temples are ancient as well, so, you can also peep through the religious history of Karwal. Temples dedicated to Hindu god Shiva are the most popular ones.