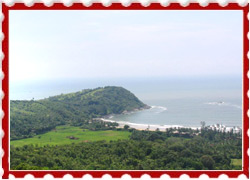 The picturesque small port town Karwar is an ideal destination for those who want to spend some time surrounded by the beguiling charms of deep blue sea. The splendid landscape of the town is nothing less than a feast to the eyes. Apart from the exotic beaches and appealing locales, the place is known for a number of other attractions for tourists to make it an unforgettable experience, memories of which last for a lifetime. Below mentioned are some of the exciting tourist places swarmed by visitors in Karwar.
Places To See In Karwar
Beaches
Karwar is most famous for its exotic beaches and they are many in number. The Devabag beach is a small paradise located on an island amidst the casuarinas. The locales of the beach are serene and peaceful which makes for a perfect retreat into the quiet arms of nature. Another beautiful and welcoming beach in the town is the Karwar beach, also known as Rabindranath Tagore Beach which is highly frequented by visitors. Golden sands and tranquil locales of this secluded island are perfect to spend a quiet holiday.
Magod Falls
Magod falls are one of the biggest tourist attractions around Karwar located at a distance of 80 kms from the place. Magod falls are formed by the cascades of river Bedthi. Surrounding the spectacular falls are dense and serene jungles that enhance their beauty. There are many other tourist attractions around the Magod Falls. Jenujalugudda, hill lock near Magod falls is much frequented tourists.
Ullavi & Gokarna
For the devotees of lord Shiva, Golkarna is a pilgrimage as important as Kashi and Rameshwar. The Mahabaleshwara temple is the main attraction of Gokarna. It is believed that the Shiva Idol kept inside the temple is a good 1500 years old.
Two other temples known as Bhadrakali temple and Venkatramana temple attract tourists in a similar way due to their immensely popularity. Ullavi situated at a distance of 75 kms from karwal, is another important pilgrimage destination frequented by tourists. There is regular transport facility available from Karwar to Ullavi.
Binaga Bay
Binaga bay is a naval base for the Indian Navy which carries out operations from here for a project called Seabird. The navy opens its portals for common people for a week in December when the Navy week is celebrated. Educational and tourist groups visiting the base are allowed to free roam and seen around the Naval Base known as INS Kadamba.