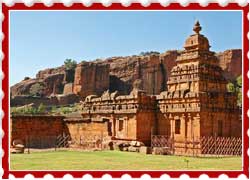 Steeped in rich history, the picturesque town of Badami is world-famous for its magnificent cave complex. Set amidst a landscape of rust red sandstone cliffs, this historic town was the capital of the powerful Early Chalukya kings, who ruled the Deccan during the 6th-7th centuries AD. Badami derived its name from the legend of Batapi, the demon who was devoured by Agastya the sage.
After their defeat at the hand of the Rashtrakutas, Chalukya king Pulakesi I (535-66) built the new capital at Badami. In 640 CE, Pallavas, who had been defeated by Pulakesi II, captured and pillaged Badami to avenge their defeat. Badami was also in the possession of the Vijayanagar Kings, the Adil Shahis, the Savanur Nawabs, the Marathas, Hyder Ali and finally the British who annexed it to the Bombay Presidency.
Among the rulers who held sway in Badami, King Kirit Barman I (567-598) took the lead in building some splendid temples with his brother Mangalesa (598-610) following suit. The cave temples of Badami came up due to the efforts of the latter. Travel to Badami for a glimpse of these temples. Among the four cave temples, three are Brahmanical temples while the fourth cave is a Jain temple dating back to the 7th century. The cave temples are an integral part of Badami tourism.
Badami Caves
Located on a hilly slope atop a flight of about 200 steps, the Badami cave temple complex comprises four ancient rock-cut caves. Of the four temples, three are Brahmanical temples while the fourth one is a Jain cave.
Excursions
A trip to the town of Badami would be incomplete without learning about the excursions from Badami. Badami excursions tour would take you to some of the exciting destinations around.
How to Reach
Badami is located in the Bagalkot district of Karnataka. It is believed to have served as the capital of early Chalukya rulers, from 6 AD to 8 AD, during which time it was known as Vatapi. It was during the time of these rulers only that the famous Badami caves came into being.
Tourist Attractions
The cave temples figure prominently in the itinerary of tourists descending on Badami. Perched atop a flight of 200 steps, the temple complex consists of four ancient rock-cut caves replete with carved pillars and bracket figures.
Weather
Badami, situated in the Bagalkot district of Karnataka, is renowned all over the world for its cave complex, which dates back to as far back as the sixth century. Numbering four in total, these ancient caves have been attracting heritage seekers since a long time.
Things to Do in Badami
Nestled amidst the landscape of rust red sandstone cliffs, Badami is a quaint little town of Karnataka. However, quite contrary to its understated and low key appearance, the place plays the role of a major tourist destination.