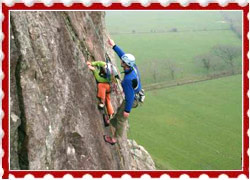 Nestled amidst the landscape of rust red sandstone cliffs, Badami is a quaint little town of Karnataka. However, quite contrary to its understated and low key appearance, the place plays the role of a major tourist destination. Its popularity stems from the rich heritage of the place, combined with the opportunity of rock climbing that it offers. Then, there is also the lure of visiting two scared temples. In case you are interested in knowing more on what to do and see in Badami, read through the following lines.
Fun Activities to Do in Badami
Rock Climbing
For the most adventure travelers, be it amateurs or experts, Badami presents the option of climbing over miles of rust-red sandstone cliffs. Popular amongst local and international climbers, these cliffs have horizontal crack systems, similar to Gunks. Unlike the hard granite stuff, the sandstone of these cliffs makes rock climbing an enjoyable experience for one and all. Though the climbing can be indulged in at any time of the year, summer season is not preferable, owing to the high temperatures during that time.
Exploring Heritage
If you come to Badami and do not explore its ancient cave temples, the trip is as good as incomplete. Three of the temples are Brahmanical in nature, while the fourth one is a Jain cave. Topping the list of the tourist attractions in Badami, the four caves date back to the sixth century and stand adorned with carved pillars and bracket figures. Of all the Badami cave temples, the one dedicated to Lord Vishnu stands out, owing to its sheer size and sculptural elegance. Badami fort is another architectural wonder worth having a look at.
Pilgrimage
The religiously inclined tourists do not need to feel left out in Badami. The city has something to offer on that front as well. It is home to two very famous temples - Bhoothanatha Temple and Malegitti Visalia Temple. The former is dedicated to Lord Shiva, enshrining His 18-armed form. Apart from that, it has idols of Ganesh, Mahishamardini Durga, Varaha and Narisingha incarnation of Vishnu as well. Malegitti Visalia Temple. The second temple has ancient origins and dates back to late 7th century.