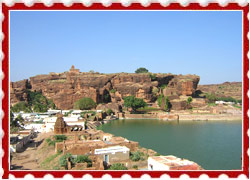 Min Temperature:
23
0
C (Summer), 15
0
C (Winter)
Max Temperature:
38
0
C (Summer), 29
0
C (Winter)
Best Time to Visit:
October to March
Badami, situated in the Bagalkot district of Karnataka, is renowned all over the world for its cave complex, which dates back to as far back as the sixth century. Numbering four in total, these ancient caves have been attracting heritage seekers since a long time. Combine this with the opportunity of rock climbing that the city offers and the pleasant weather that it enjoys for a major portion of the year and you have the reason why Badami is a popular tourist destination of Karnataka. In the following lines, we have provided information on the weather and climate of the place.
Summer
The summer season in Badami lasts from March to June. During this time, an unrelenting sun renders the plains hot and dry. The maximum temperature remains somewhere around 38
0
C, which dips to 23
0
C by the time night falls.
Monsoon
Badami region experiences excessive rainfall during the monsoon season, which starts in June and lasts till September. During the monsoon season, the city experiences high level of humidity.
Winter
During winters, which begin from the month of November and last till the end of January, the climate of Badami is quite favorable, since the mercury does not come crashing down. Temperatures hover in the range of 29
0
C to 15
0
C.
Clothing
For a summer sojourn, cotton clothes are a must to beat the hot and humid conditions. During winters light woolens would come handy. The best time to visit Badami is from October to March.