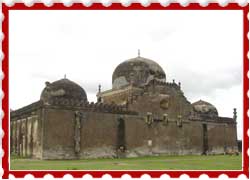 The massive Gulbarga fort is part of the earliest examples of Islamic architecture in Karnataka spawned by the Bahmani Sultanate. The fort was originally built by Raja Gulchand, a feudatory of the Orangal Kakatiyas. As Gulbarga gained prominence as the Bahmani capital, the fort was fortified by Alauddin Bahman with a deep moat and massive walls.
Ensconced within the confines of the fort are a number of ancient structures including large buildings, mosques, temples, stables, ammunition dumps, carriages, towers, guns, and several beautiful courtyards. The bustling infrastructure of the Gulbarga fort helped as it stood guard against invading armies and raiding marauders. Even though Vijayanagara king Krishnadevaraya ravaged the structure it was subsequently rebuilt by Adil Shah.
The once majestic Gulbarga fort now stands as a dilapidated structure with the structures inside having crumbled into ruins. Owing to neglect on part of the authorities, the fort now presents a desolate and forlorn picture. Several illegal constructions mar the beauty of the fort and the encircling moat is filled with garbage.