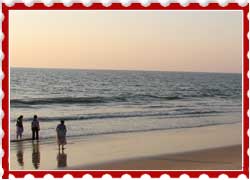 One of the most scenic beaches in Karnataka, Marawanthe beach is located 50km from Udupi along the NH-17 bordered by the Arabian Sea on one side and the Souparnika River on the other side. This stunning stretch of land of golden sands and blue water is an ideal spot for unwinding.
If the captivating beauty of the Marawanthe landscape leaves you spellbound, the fabulous sunset will make you stay here forever. As the sun fades in the horizon, the sky turns crimson and the golden rays of the sun are reflected in the sea as well as the river. The serene beauty of Maravanthe has made it a popular picnic spot for the locals.
Baindur, a hamlet 45 kms from Marawanthe, has another picturesque beach. A further drive will take you to the Belaka Theertha Falls near Baindur. Illuminated by streetlights, Marawanthe turns into a cool nightspot after dark.