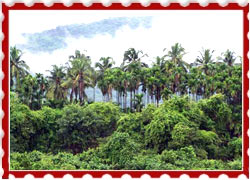 Min Temperature:
22
0
C (Summer), 10
0
C (Winter)
Max Temperature:
40
0
C (Summer), 32
0
C (Winter)
Best Time to Visit:
All round the year
Situated in the Udupi district of Karnataka, the city of Udupi is one of the interesting places to spend a relaxing vacation. The city extends tourists a plethora of attractions and places to see. Apart from this, the pleasing and enjoyable climate makes way for Udupi to be one of the top destinations for people who are looking forward for a weekend getaway. Talking about the weather, Udupi extends a pleasant weather. Summer usually starts from the month of March and lasts till June. Mercury during this time rises to about 40
0
C. During nights, it however lowers reaching the 22 degree mark.
Monsoon starts from June and lasts till September, offering an average rainfall accompanied by heavy winds in southwest and northeast directions. During winters, temperature lowers down considerably, with the maximum temperature reaching to only about 32
0
C. At nights, mercury drops down further reaching the 10
0
C mark. While the days are warm and sunny, nights are often chill and cool. The pleasing temperature is one of the important factors, which make Udupi an interesting place for vacationers and holiday makers.