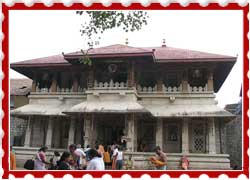 Nestled in the foot of the Western Ghats, the Mookambika temple in the village of Kollur attracts devotees from all over India. One of the seven pilgrimages created by Parashurama, Kollur is devoted to goddess Parvathi while the other pilgrimages are devoted to Lord Shiva, Lord Subramanya and Lord Ganesha. The temple derives its name from a demon Mookasura who was destroyed by the goddess Shakti.
The sanctum sanctorum of the Sri Mookambika temple contains the Shiva lingam called the Jyothirlingam. The lingam is divided into two unequal parts by a golden line and is visible only in the light of reflected sunlight pointed at the lingam. The right portion of the lingam represents Brahma, Vishnu and Shiva while the larger left part represents Lakshmi, Saraswathi and Parvathi.
The Panchaloha image (five element mixed metal) of the Goddess on Shree Chakra is stated to have been sanctified by great religious scholar Adi Shankaracharya during his visit to this place. The temple has a gold plated crest and copper roofs.