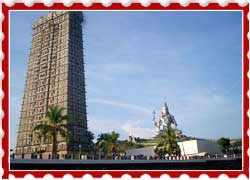 Murudeshwar is known as much for its sacred temple complex as for its picturesque beaches. Nestled between the vast sea and undulating hills, Murudeshwar is thronged by pious devotees and enthusiastic tourists alike. The 500-year-old Shiva temple of Murudeshwar is located atop a small hill called Kanduka Giri, bounded by the sea on three sides.
Situated inside the temple complex, a huge 15 m. statue of Shiva dominates the Murudeshwar landscape. The Shiva temple presents a scenic view with the sea to the west, the lofty hills to the east and the coconut and areca groves nearby. The temple, a manifestation of Chalukya and Kadamba temple architectures, is believed to have been sanctified by a piece of the Pranalinga of Mahabaleshwara thrown by Ravana.
Two life-size elephants in concrete stand guard at the steps leading to the temple. The huge fort behind the temple is said to have been renovated by Tipu sultan, the ruler of Mysore.