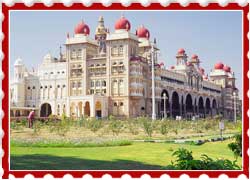 With its majestic architecture and royal aura, the Mysore palace is the crown jewel of Mysore, the city of palaces. The official residence of the Woodeyar dynasty, the Mysore palace was first built in the 14th century. After being ravaged by fire and lightning twice, the present structure came up in 1912 courtesy the design of British architect Henry Irwin.
Irwin built the Mysore palace in the Indo-Saracenic style, incorporating the design elements of Hindu, Muslim, Rajput, and Gothic styles of architecture. The three-storied stone building of fine gray granite with deep pink marble domes features domes, turrets, arches, and colonnades ornated with beautiful carvings.
Among the beautiful rooms of the palace, the elegantly designed Amba Vilasa or Diwan-E-Khas is a treat to the eye and was used by the king for private audience. The Kalyana Mantapa or Marriage Hall with its chandeliers and stained Belgian glass ceiling arranged in peacock designs is another main attraction. The magnificent jewel-studded golden throne, made of 200kgs of pure gold, is displayed during the Dasara festival.
The Mysore palace is illuminated on Sundays, national holidays and state festivals from 7:00 p.m. to 8 p.m. The timings are from 7 p.m. to 9 p.m. during the Dasara festival.