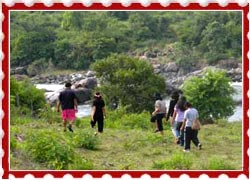 Mysore is as much known for its architectural beauty as for its rich wildlife. Though the city is not home to any wildlife hubs as such, it is located close to two famous sanctuaries - Nagarhole National Park and Ranganthittu Bird Sanctuary, luring tourists from far and wide. Talking about the architectural splendor of the city, the Mysore Palace simply takes your breath away. If you want to delve into the past of the city, Rail Museum and Sri Jayachamarajendra Art Gallery are a must-visit. With this article, know more on what to do and see in Mysore.
Fun Activities to Do in Mysore
Wildlife Viewing
There is not even one, but two wildlife hubs situated near Mysore. One of them is Nagarhole National Park, which is known for its population of Asiatic elephants, tigers, leopard, wild dog (dhole or Cuon alpinus), sloth bear, hyena, spotted deer, sambar, barking deer, four-horned antelope, gaur, and wild boar. The best time to visit the place is from May to September. The second one is Ranganthittu Bird Sanctuary, which houses bonnet macaques, palm civets, common mongoose and common otters.
If you do not want to roam around in the wild, yet have a look at the wildlife of this area, visiting Mysore Zoo would be a very good option. The zoo houses a number of exotic animals, which include the Royal Bengal tigers, white tigers, elephants, giraffe, fallow deer, Himalayan black bear, Guar (Indian bison), white peafowl and Indian rhino. It is open from 8.30 am to 5.30 pm on all days of the week, except Tuesday.
Bird Watching
Ranganthittu Bird Sanctuary, as its very name suggests, is a bird watcher's paradise. Best visited from June to September, it serves as home to myriad of bird species, such as cormorants, darters, white ibis, storks (spoon-billed, open-billed, painted, and white-necked), egrets, herons, terns, swallows, streaked weavers, ducks, teals, sandpipers, kingfishers, and other exotic birds. You will simply love looking at these birds, from close quarters.
Exploring Heritage
If you have come to Mysore, exploring its rich heritage and striking architectural beauty is a must. The city is home to Mysore Palace, which was originally built in the 14th century, as the residence of the Woodeyar kings. Redeveloped by British architect Henry Irwin in 1912, after it was devastated by fire and lightning, the palace woos you with its magnificence and splendor. It looks especially breathtaking on Sundays, national holidays and state festivals, when the premises are illuminated from 7:00 p.m. to 8 p.m. During the Dasara festival, the palace is lit up from 7 p.m. to 9 p.m.