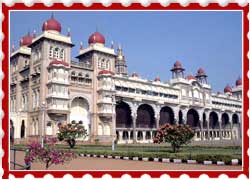 Mysore tours will encompass regal palaces, sacred pilgrimages and scenic gardens.
Mysore Palace
This majestic palace is the most sought after destination in the tour of Mysore. Originally built in the 14th century, the present Mysore palace came up in 1912 courtesy the design of British architect Henry Irwin. The palace presents a grand spectacle when it is illuminated on Sundays, national holidays and state festivals.
St. Philomena's Church
Inspired by the architecture of Germany's Cologne Cathedral, St. Philomena's church is an impressive neo-Gothic structure. Beautiful frescoes depicting scenes from Bible adorn the stained glass windows of the church.
Mysore Zoo
One of India's oldest zoos, the Mysore zoo was set up way back in 1892 as the Palace Zoo by Maharaja Chamaraja Woodeyar. The zoo houses a number of exotic animals including Royal Bengal tigers, white tigers, elephants, giraffe, fallow deer, Himalayan black bear, Guar (Indian bison), white peafowl and Indian rhino. The Mysore zoo is open from 8.30am to 5.30pm on all days except Tuesday.
Rail Museum
The Rail Museum houses a priceless collection of locomotives, coaches belonging to the fledgling days of Indian railway. A collection of paintings and photographs narrating the evolution of rail networks in India is also being preserved. The prize exhibit of the museum is the Maharani's Saloon built in the U.K.
Sri Jayachamarajendra Art Gallery
The Jaganmohan Palace, built in 1902 to mark the coronation ceremony of Krishnaraja III, was converted into the Jayachamarajendra Art Gallery, which exhibits a rich collection of ceramics, sandalwood, ivory, stone, antique furniture, and ancient musical instruments. You can also gaze at paintings by reputed artists like Ravi Varma and Roerich, as well as traditional Mysore gold leaf paintings.