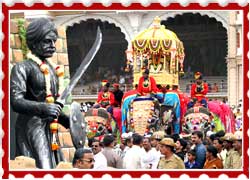 A fiesta of colorful traditions and sacred rituals, the Mysore Dasara festival has transcended the confines of the state and is regarded as one of India's finest festival experiences. Held in the months of September and October, Mysore Dasara (Dussehra) festival celebrates the triumph of good over evil as manifested in the destruction of demon king Mahishasura by the Goddess Chamundeshwari.
During this ten-day extravaganza of pomp and pageantry, the Mysore city is engulfed in a riot of colors as street corners, houses, shops and important monuments are illuminated and decorated. In tune with the festive celebrations, various cultural events take place in the city that provide a glimpse of India's finest music, theatre, art and dance traditions.
The Mysore Dasara celebrations reach their acme on Vijaydashami or the tenth day procession. This unique procession, rich in detail, witnesses mounted guardsmen in royal insignia and caparisoned elephants carrying the idol of goddess Chamundi in a gold howdah winding through the gaily-decorated city streets. The procession begins from Mysore Palace and concludes at the Banni Mantap. The festival culminates in a torch light parade in the evening and a stunning fireworks display illuminating the night sky.