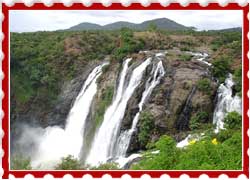 Enjoy the Mysore excursions tour amid scenic locales and holy shrines.
Ranganathittu (18 km)
The Ranganathittu Bird Sanctuary, spread over an area of 0.67 km², is a haven for the avian population. The sanctuary is home to a myriad of bird species such as cormorants, darters, white ibis, storks (spoonbilled, openbilled, painted, white necked), egrets, herons, terns, and swallows.
Shivasamudram Falls (65 Km)
The Shivasamudram falls is a segmented waterfall since the river Cauvery branches into two separate falls - the western falls known as Gaganachukki and the eastern falls, Bharachukki. Shivasamudram falls is the second biggest waterfall in India and the sixteenth largest in the world.
Chamundi Hills (13 km)
A flight of 1000 steps up the Chamundi hills lead to the 12th century temple of Chamundeshwari, the presiding deity of Mysore. Besides enjoying a panoramic view of Mysore's scenic landscape, one can also ogle at the gigantic statue of demon Mahishasura and marvel at the majestic 4.8-meter monolith of Nandi, Lord Shiva's bull.
Srirangapattanam (15 km)
Located on the banks of river Cauvery, the island town of Srirangapattanam was the capital of Tipu Sultan, the legendary ruler Mysore who put up a valiant fight against British invasion. A number of moated forts, fortified palaces and temples stand as witness of the rich legacy. The majestic Sri Ranganathaswamy Temple and Darya Daulat, the garden palace of Tipu Sultan, are other major attraction here.
Somanathapur (35 km)
A small village on the left bank of river Cauvery, Somanathapur is well known for its wonderful Hoysala temple, dedicated to Prasanna Chennakeshava. Built on a star shaped plan typical of Hoysala temple architecture, it is a triple shrine temple, of which the other two are dedicated to Lord Janardhana and Venugopala, the two different forms of Lord Vishnu.