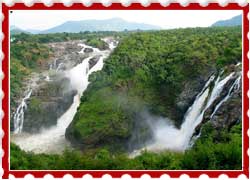 The Shivasamudram falls is a segmented waterfall since the river Cauvery branches into two separate falls - the western falls known as Gaganachukki and the eastern falls, Bharachukki. Shivasamudram falls is the second biggest waterfall in India and the sixteenth largest in the world.
Gaganachukki on the left is a large horsetail waterfall and Bharachukki on the right is a jagged crashing cascading waterfall. With the onset of the monsoon season, the Sivasamudram waterfall runs amok with enormous energy and the Cauvery River tumbles headlong in a wonderful cascade, sending up dense clouds of mist.
In 1902, on the left waterfall, the Gaganachukki, the first hydro-electric power station of Karnataka was constructed by Sheshadri Ayyar, a dewan of Mysore. This is regarded the first hydro power station in Asia and from here power was supplied to Bangalore -- the first city to get power in India - in 1906.