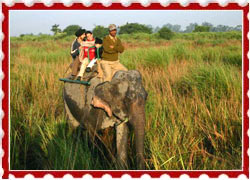 Reaching Kabini through roads of Nagarhole, to be welcomed by backwaters joining a thick bamboo forest, is a fun activity in its own. Elephants sauntering around in vast herds engaged in their feeding, relaxing, bathing and frolicking sessions, is a sight worth-seeing. Kabini is the best place to observe the largest congregation of Asian elephants on the earth. If you are pondering over what to do & see in Kabini Wildlife Sanctuary, then you have landed at the right webpage. Scroll down to know more about things to do in Kabini, Karnataka.
Jeep Safari
This could be the best way to browse the jungles, backwaters, hillocks, ponds, bamboos, etc, of Kabini. Get into a jeep and drive around to see the some of best sights, you have ever seen. Early morning is the best time to watch the jungle waking up; when the leaves and shrubs get washed with the dew drops. Watch out peacocks, grey langurs, terrapin, and chital in their own state. Evenings are the time when elephants start assembling by the backwaters. Tiger Tank is a water source in Sunkadakatte area where various varieties of big cats can be seen. Different resorts may have different rates for the jeep safari; however the fees for safari, vehicle entry, boat rides, park entry, guide and camera is usually incorporated in the accommodation packages.
Boat Ride
It's just amazing to actually sail along the waters bounded by forests on all sides, and watching herds of animals on the shores. With the sound of approaching boat, the birds usually take off but animals continue to make preparations for the night camps on the banks of the river.
Elephant Ride
This would be really amusing. To take an elephant ride, simply drive over to the Sunkadakatte Forest to meet herd of elephants ready to take you on their backs to introduce you to their jungle mates. Sitting atop these elephants gives you a sense of authority over the jungle, when watched the whole scene from above.
Elephant Camp
To reach this elephant camp at Balle, you must drive via Karapur and it would take less than half an hour. After taking a left on from Mysore-Mananthavady Road, Balle Camp can be reached in 15-20 minutes. Here entry is free and timings are from 7am to 6pm. In April and May, this place is closed for tourists. There is something special about this place and what exactly is that, would be clear when you will see these huge creatures being fed their snack. The sight of elephants standing in a row, resting their trunks on wooden poles uncomplainingly and waiting for their turn to get the snack is amusing.