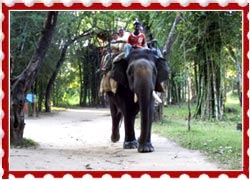 Elephants, elephants and more elephants - this is what we all know is mostly visible in Kabini. The naturally beautiful landscape and water brooks are some other good reasons which attract tourists to this wildlife sanctuary. The Mother Nature has been benevolent to Kabini where forests are blessed with rippling streams, rich flora, amazing fauna and avifauna, to name a few. As far as tourist attractions in Kabini are concerned, the sanctuary is an attraction in its own. All here you can find is solace, all what you can see is abundance of flora and fauna and all you can listen to is chirping of birds, sounds of animals and gushing waters.
Flora
The rainfall influences the flora of Kabini Park to a great extent. Most parts contain dry-deciduous forests and moist-deciduous forests. Moist deciduous exist in the region where the annual rainfall usually exceeds 1000mm and dry-deciduous where the rainfall is lesser. The park is also home to assorted microhabitat types like hadlus, which are shallow clayey valley bottoms containing swamp savannas and short grass clearings or veiwlines, which are meant to help game viewing for the tourists. Trees offering flowers, such as Flame of the Forest, Indian Coral Tree, Red Silk Cotton, Indian Laburnum and the Padri, appear lovely and add color to the park. The Kabini River is marked by a dam, which creates a big lake dominated by Giant Bamboo on its banks.
Fauna
The ecosystem of this region supports the highest density of herbivores anywhere in Asia. Studies reveal that the region has 108 animals per sq km. Large herbivores found here are Muntjak, Chital, Sambar, Four-horned antelope, Gaur, Wild pig, Asian Elephant, Common Langur and the Bonnet Macaque. Out of these herbivores, the Chital, Sambar, Gaur, Wild pig, Muntjak and Common Langur are hunted by the Tiger, Leopard and Wild Dog. Moreover, here the prey species are found in different sizes. Owing to the availability of prey in the appropriate size, there is an adequate balance of species. Some primary reasons for large carnivore population in Kabini are availability of appropriate sized prey, dense cover and tree density.