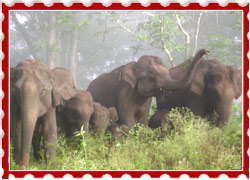 Min Temperature:
10
0
C (Summers), 6
0
C (Winters)
Max Temperature:
36
0
C (Summers), 26
0
C (Winters)
Best Time To Visit:
September to May
Throughout the year, the Sun shines brightly in Kabini and probably that's the reason why Kabini experiences warm climate. Its balmy weather round the year makes it an all time favorite destination amongst tourists. The summer months of March till May observe shining sun, and the temperatures hovers between 36
0
C in daytime and 10°C at nights. Monsoons are quite heavy in Kabini, and make the region extremely humid.
On an average, Kabini receives 1000 mm to 1500 mm of rainfall. Therefore, it is not advised to visit the sanctuary during the monsoons. During winter months of December to February, the temperature touches maximum of 26
0
C and minimum of 6
0
C. Though Kabini Wildlife Sanctuary can be visited all year round, the best time to visit is between September and May. If you're keen to watch fauna, then the right time would be from November to January.