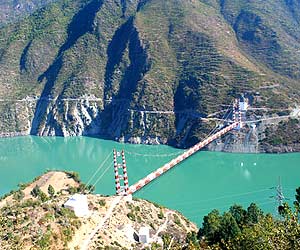 The word 'Bugyal', in local dialect, means 'high altitude meadows' or 'nature's own gardens'. Dayara Bugyal is a picturesque meadow, situated at an elevation of about 3, 048 meters above the sea level, located amidst snow capped Garhwal Himalayas of Uttarkashi district within the hill state of Uttarakhand in India.
Dayara Bugyal is one of the most scenic spots of Uttarakhand with vast expanse of alpine grasslands. In terms of interesting activities one can do, Dayara Bugyal has a lot to offer. Apart from the breathtaking views of surrounding snow covered higher Himalayan peaks, Dayara Bugyal has in its vicinity the beautiful lake of Barnala Tal. The fascination of camping by the side of Barnala Tal has always attracted visitors to this place.
During the winter months, this grassy heaven is covered with layers of white snow, just the kind needed to make a skiing paradise. Dayara Bugyal, with one of the best skiing slopes in the country, attracts skiing enthusiast from all over the world during these months. The fascinating snow covered slopes extend to about 28 sq. Km in area.
Trek To Dayara Bugyal (8 Km)
Dayara Bugyal can be reached after a scenic trek of about 8 Km from the village of Barsu. Barsu and Raithal are two villages that one can choose from, to start the trek. Both these villages are close to Uttarkashi-Gangotri road. One has to get off at Bhatwari on Uttarkashi-Gangotri road, incase coming by bus/public transport. From Bhatwari, Barsu is 11 Km drive. A couple of kilometers ahead lies the village of Raithal. Those interested in visiting Sheshnag Temple, start their trek at Raithal.
How To Reach
By road, the village of Barsu, which is also the last road head en route Dayara Bugyal, is well connected from major destinations of the region. From Rishikesh, Barsu is a 184 Km drive. Regular bus and taxi services are available from Rishikesh and Uttarkashi. Nearest railhead is Rishikesh which is about 192 Km away while the nearest airport is Jolly Grant of Dehradun.