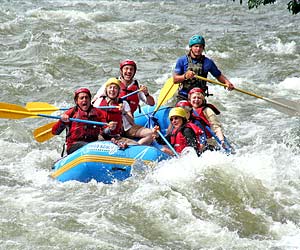 Uttarakhand is a beautiful hill state of northern India. The mighty Himalayas flank Uttarakhand at its north while the densely wooded region of Tarai makes the southern part of the state.
Uttarakhand is home to numerous icy glaciers which are sources of perennial Himalayan rivers like Ganga and Yamuna. With abundance of fast flowing streams, rivulets and rivers, Uttarakhand harbors immense potential for water sports like river canoeing, kayaking or rafting.
Uttarakhand with a large number of fast flowing rivers like Alaknanda, Mandakhini and Bhagirathi besides Ganga and Yamuna, is a river rafting delight. Every year, rafting enthusiasts from around the globe, throng Uttarakhand to enjoy this thrilling sport.
The icy rivers, with sparkling clear waters, flowing at high speeds down the mountains offer a challenge to even the most skilled in this sport. For those who are aware of the various grades of rafting, will appreciate the fact that some of the rafting spots of Uttarakhand have been accorded statuses of grade IV and even grade V. Gradation in this sport, starting at grade I, increases with the increasing level of difficulty.
Nevertheless, there are umpteen opportunities available for even the beginners to learn, practice and master in due course, this exciting water sport. Courses in river rafting are regularly conducted for all levels by organizations such as Garhwal Mandal Vikas Nigam (GMVN) and Kumaon Mandal Vikas Nigam (KMVN).
Rivers in Uttarakhand, most suited for river rafting, are:
Alaknanda
Bhagirathi
Mandakhini
Ganga
Yamuna
Bhilangana
Kali Ganga (Sharda)
Major River Rafting Camps
Some of the major rafting camps in Uttarakhand state are:
Rishikesh - Located near Haridwar, on the banks of river Ganga.
Shivpuri - Located 30 Km from Rishikesh, on the banks of river Ganga
Marine Drive - Located a few Kilometers uphill from Rishikesh, on the banks of river Ganga. It is 20 Km upstream from Rishikesh.
Kaudiyala Rafter's Camp - 36 Km upstream from Rishikesh, on the banks of river Ganga.
River rafting camps set on silvery sand beaches of Ganga, amidst thick virgin Himalayan forests are a great place to spend your holidays. Here, one can enjoy a combination of thrill and adventure that comes with river rafting along with luxurious living by the side of clear waters of Ganga. On easy days, one can even catch some afternoon siestas on the virgin sands. Nights at these camps under the start lit skies are tranquil and truly romantic.