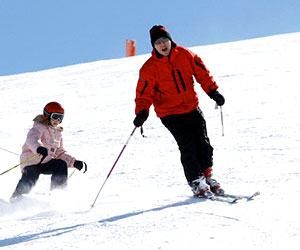 Snow skiing is a popular sport that requires snow covered slopes, skis and a longing for thrill. Skiing is generally considered a winter sport, snow being a prerequisite. Skiing, today a major sport has its origin in the prehistoric times when it provided a convenient mode of transportation for people living in lands covered with snow.
Uttarakhand, with its exotic locales, clothed in white pristine snow, is just the kind of paradise the skiers crave for. The unique topography of Uttarakhand offers some of the best skiing opportunities in the world. Vast expanses of undulating terrain, beautifully covered with layers snow, attract lovers of this sport from all over the globe.
Uttarakhand, fast gaining popularity as being home to some of the best skiing slopes, sees thousands of skiing enthusiasts throng its slopes every year. Here, at various destinations, courses of all levels for learning this thrilling sport are conducted by various clubs, schools and organizations. Some of the major ones providing world class facilities are Garhwal Mandal Vikas Nigam (GMVN) and Kumaon Mandal Vikas Nigam (KMVN) which are enterprises of Uttarakhand government.
Major Skiing Sites In Uttarakhand
Auli
With an altitude ranging between 2, 519 - 3, 049 meters above the sea level, excellent snow covered slopes and state-of-art facilities, Auli is one of the best skiing resorts in India. It is about 14 Km drive from Joshimath. Also a 4 Km ropeway connects Auli with Joshimath. Regular skiing courses are conducted here every skiing season i.e. during the winter months.
Mundali
Located amidst lofty snow capped Himalayan peaks, Mundali with its pristine snow covered slopes is another destination, fast gaining popularity amongst the skiers. To reach Mundali, one has to drive 36 Km on unhealed jeep able road from Chakrata. Alternatively, Tiuni route via Dharagarh can also be taken. Taking this route, Mundali can be reached after a 52 Km drive.
Dayara Bugyal
Dayara Bugyal, surely the best in natural beauty, is another scenic location, ideal for skiing. Located within Uttarkashi district, Dayara Bugyal is about 8 Km trek from the village of Barsu. Barsu can be reached from Rishikesh after a drive of 184 Km.
Munsiyari
Munsiyari is a tehsil place in the district of Pithoragarh. Nearby places - Khalia Top and Betulidhar are found to be ideally suited for skiing. Skiing facilities like equipments and training courses are being offered at these sites by KMVN and other organizations. Khalia Top and Betulidhar are located at distances of 7 Km and 5 Km from Munsiyari.
Besides those mentioned above, there are some other places in Uttarakhand which is being developed skiing and are fast becoming popular. They are:
Kush Kalyani and Kedar Kantha in District Uttarkashi
Panwali and Natya in District Tehri Garhwal
Bedni Buygal in Chamoli District
Chiplakot in Pithoragarh District