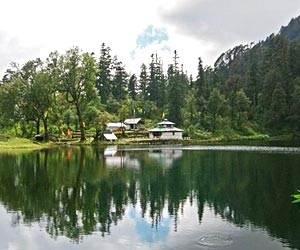 Dodital, amid snow capped majestic Himalayas, is located in Garhwal region of Uttarkashi district with the hill state of Uttarakhand in India. Surrounded by mountain vegetation of thick oak, deodar and rhododendron forests, Dodital is an beautiful place that is sure to captivate anyone with its mystic charm.
'Dodi' from which the place draws its name, is the local name for the trout. Many varieties of trout are found in the lake and hence the name of Dodital. It is because of this reason that the government has been running a fisheries center at Kalyani, which is en route Dodital.
Dodital is the source of river Asi Ganga that joins the river Bhagirathi 4 km north of Uttarkashi. The fish are let loose from Asi Ganga to Bhagirathi. Mainly fishing for Mahseer is done at Dodital. Mahseer is also found in rivers Ramganga and Sharda.
Dodital offers excellent trekking opportunities through the wooded landscape and terraced fields. Generally the trek to Dodital starts at either Uttarkashi or Kalyani. This also provides a good introduction to trekking in the higher altitudes. For the more adventurous and serious trekking, expeditions can continue further from Dodital to Hanuman Chatti and Yamunotri. Dodital has two other names, Dhoondital and Dundital. Dhoondital means Ganesh-Ka-Tal (Lake of Lord Ganesha). As the legend goes, Lord Ganesh in puranic era, selected this lake for his abode.
The water of this Dodital is considered special. One has to stay here for some days to believe by experiencing it himself. The water here has qualities that are vitalizing. Washing one's face with Dodital's water, it is believed, to make one look fresh and attractive.
Places Of Interest At Dodital
Mahadev Ka Vishal Trishul
This is Lord Shiva's large Trishul (trident) made of eight major metals. Rising 26 ft. above the ground, it is believed that Lord Shiva killed Vakasur with this Trishul. According to the legend, this Trishul of Lord Shiva, dazzled the eyes of the onlookers by its intolerable glitter. It is for this reason the Trishul was smeared with color. Within the temple, a mere touch by the third finger can shake the Trishul. However, interestingly, outside the temple it cannot be shaken even by applying great force.
Vishwanath Temple
The temple of Vishwanath is located just opposite to Lord Shiva's Trishul. Many legends are connected with this temple too.
How To Reach Dodital
By road, Dodital is connected by motorable road with Uttarkashi. Uttarkashi is well connected with major destinations of the region like Rishikesh (via Narendranagar) which is about a 5-6 hours drive, Tehri (67 Km), Dharasu (37 Km), Narendranagar (16 Km) and so on. Nearest railhead is Rishikesh and nearest airport is Jolly Grant of Dehradun.