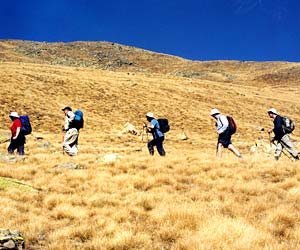 Uttarakhand, flanked by magnificent Himalayas at its north and densely forested region of Tarai in the south, is a beautiful state in northern India. Since major part of Uttarakhand come under hilly terrain, it offers excellent opportunities for trekking and mountaineering.
Uttarakhand's beauty is a fusion of snow covered lofty Himalayas, fast flowing streams and rivers, lush green forests and abundance of spirituality that envelops it. All this makes Uttarakhand a trekker's delight.
Trekking in the majestic Himalayas of Uttarakhand offers an unforgettable experience involving hiking through some of the most pristine sylvan surrounds and souring challenging heights. For the nature lovers, trekking through virgin mountain vegetation is truly fulfilling. Slopes covered with tall oak, deodar and pine trees and high altitude wild flowers like that of rhododendron work wonders on the minds of trekkers and liven up their spirits.
There are various trekking routes in Uttarakhand that attract trekkers in huge numbers every year from all over the world. Broadly speaking, trekking routes in Uttarakhand can be divided on the basis of regions under which they fall - Garhwal and Kumaon.
Trekking In Garhwal Himalayas
Garhwal Himalayas, famous world over for their picture perfect beauty, are considered amongst the best for trekking. Every year, numerous trekking expeditions and training courses in trekking are conducted by organizations like the Garhwal Mandal Vikas Nigam (GMVN), an enterprise of Uttarakhand government.
Garhwal is home to some of the most famous trekking routes such as: