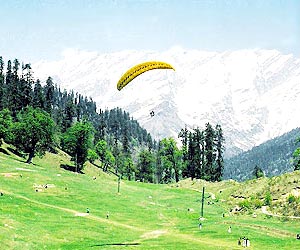 Paragliding is a type of aerosport which is amongst the most popular adventure sports in the world. This thrilling aerosport allows you to soar high in the air. Paragliding has its origins in 1940s though its popularity shot only during 1980s. That makes paragliding one of the latest entrants in the list of adventure sports.
The Himalayan mountain ranges of Uttarakhand offer a host of paragliding opportunities and are considered amongst some of the best in the world. The lofty mountain peaks of Uttarakhand make ideal locations for the sport of paragliding.
The unique topography of this beautiful hill state - Uttarakhand - with magnificent Himalayas in the north and plains of Tarai in the south, promises an unforgettable experience of paragliding over densely forested, lush green deep cut valleys, cradled in snow covered Himalayan surrounds.
Uttarakhand offers an ideal paragliding destination for both, the experienced and the beginner paragliders. Here, joy paragliding rides as well as training courses in paragliding are conducted by numerous paragliding clubs, schools and organizations. Some of the well known organizations offering paragliding facilities are Garhwal Mandal Vikas Nigam (GMVN) and Kumaon Mandal Vikas Nigam (KMVN) which are enterprises of Uttarakhand Government.
Popular Paragliding Sites In Uttarakhand
Some of the ideal paragliding sites in Uttarakhand are as follows:-
Naukutchiyatal
Dhanaulti Ridge
Mussorie
Rishikesh
Dayara Bugyal
Pratap Nagar
Bedni Bugyal
Pithoragarh
Prerequisites For Paragliding
Paragliding, though a thrilling aerosport, requires certain level of physical and mental fitness. It is advised that people with high blood pressure or any heart disease and those with fear of heights, must not undertake paragliding. Also, it is required that a person must not be overweight since paragliding doest require a good amount of agility and physical endurance. Having said this, paragliding is not very difficult to learn. All you need is interest, willingness and love for thrill.