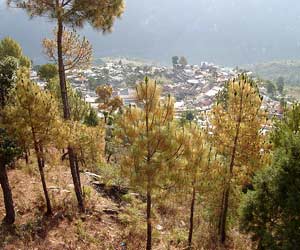 The beautiful and tranquil mountains of Pauri Garhwal are home to so many beautiful places. Tourist attractions of the place consist of both natural as well as cultural endowments. The climate of Pauri Garhwal is cold but balmy in winters and pleasant but warm in summers, which makes it a delight to visit the tourist attractions here. Some of the tourist attractions are listed below for your convenience and reference.
Kandolia
The Shiva temple, also known as Kandolia Devta, is situated just two kms from Pauri. The temple complex is surrounded by impenetrable Oak and Pine forests. The temple has Ransi, Asia's highest stadium, as its neighbor. One can have a stunning observation of the city of Pauri and Gangwarsyun valley.
Binsar Mahadev
Located at an altitude of 2, 480 m, the Binsar Mahadev is situated about 114 kms from Pauri. Binsar Mahadev is enclosed with thick forests of trees such as Birch, Rhododendron and Deodar. The resident deities of this temple are Hargauri, Ganesh and Mahisasurmardini.
Tara Kund
Tara Kund, situated at a height of 2, 200 m, is a charming place amidst high and mighty Mountains in the Chariserh development area. A miniature lake and a prehistoric temple adorn the place.
Kanvashram
Kanvashram is situated on the bank of River Malini, about 14 kms from Kotdwar. Also known as the Kanva Rishi Ashram, this place is famous for being the supposedly the foster home of Shakuntala, the heroine and muse for the epic poem Abhijananashakuntalam.
Khirsu
Khirsu is located about 19 kms from the main Pauri city. Since it is located at a height of 1, 700 m, one can see many awe-inspiring high mountain peaks. Khirsu is absolutely pollution free so the oxygen laden will be the first thing that surprises you. One can spend the night here in the government made Tourist Rest House and Forest Rest House.