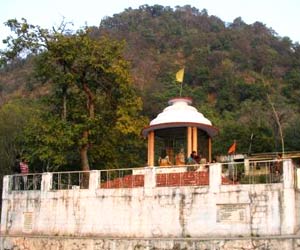 Kanvashram, 14 km from Kotdwar, is an important destination from historical and archaeological point of view. As the legend goes, it is believed that sage Vishwamitra meditated at this place. Fearing Vishwamitra's intense meditation, Indra, the king of sub-Gods sent a charming heavenly damsel Menka to distract him.
Menka succeeded in seducing and thus, distracting the sage. A daughter was born as fruit of their union. She was named Shakuntala who was then, left in the ashram in the care of Rishi Kanva.
Shakuntala later, upon marriage with Dushyant, the ruler of Hastinapur, gave birth to prince Bharat. It is by virtue of this name - Bharat - that India came to be called Bharatvarsha and thus Bharat.
Kanvashram is well connected by road with most of the important destinations of the region. Nearest railhead is at Kotdwar which is 14 Km away while the nearest airport is Jollygrant (Dehradun).
Kanvashram has a lot to offer for visitors of all kinds. Those seeking solitude can relax amidst serene and forested surrounds of Kanvashram while a number of long and short trekking routes are sure to satisfy the quests of the adventurous kinds. One can reach the captivating Sahastradhara Falls after a one hour trek. For those unwilling to take any tiring trek, a simple walk to Malini barrage will surely be an unforgettable experience.
There is also a Gurukul that one can visit. This Gurukul – traditional school for boys – provides services like massages and conducts Yoga Courses besides making available a host of ayurvedic medicines.
Comfortable boarding and lodging facilities are available in Kanvashram. One can even put up at the Gurukul. Alternatively, for the brave ones, spending the night at GMVN tourist rest house here wouldn't be a bad idea at all.
How To Reach
By road, it is well connected with all major destinations of the region like Kotdwar which is 14 km away. Nearest railhead is at Kotdwar and nearest airport is Jolly Grant (Dehradun).