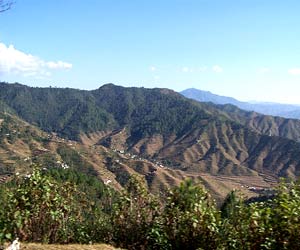 Kotdwar which is 108 km from the district headquarter of Pauri, is a rapidly growing commercial center of Garhwal region. It is also one of the gateways to the hills of Garhwal.
Kotdwar has a lot to offer to tourists of all kinds, those on pilgrimage, trekking enthusiasts or the casual tourists seeking to retreat from the maddening urban crowds.
Kotdwar, being well connected by both rail and road with major cities of north India, proves to be a destination that can be accessed easily. For those heading to destinations like Pauri, Lansdowne, Srinagar and so on, kotdwar becomes a comfortable stopover destination that offers all facilities – hotels, restaurants, taxi services etc. - found in an urban area.
Places Of Interest In And Around Kotdwar
District Board Shopping Centre (You may also visit Badrinath Road and Station Road to shop around for local handicrafts)
Malni Market
Siddhibali Temple
Durga Devi Temple
Medanpuri Devi
Shri Koteshwar Mahadev
Sukhroh Devi Mandir
Gita Bhawan Mandir
Hanuman Mandir
Phalahari Baba Ganeshgiri Temple
Ganga Mandir
Jama Masjid
Idgah Masjid
Gurdwara Shri Guru Nanak Singh Sabha
Shri Digamber Jain Mandir
Saint Joseph's Cathedral