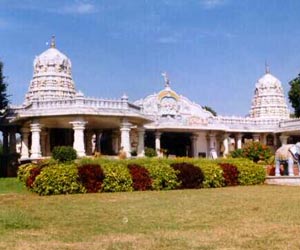 The city of Srinagar forms a part of Pauri Garhwal District of Uttarakhand state in India. Srinagar with a population of 19, 861 persons is a municipal board. The city is situated on the banks of river Alaknanda.
Srinagar was formerly the capital of Garhwal before the arrival of British in the region. Its name is drawn from Sri Yantra. Since ancient times it is a centre of Divine Energy, a Siddha Peeth.
In 1504 AD the first Sikh Guru, Guru Nanak after his visit to Haridwar on Baisakhi day followed by Kankhal and Srinagar. Guru Nanak's visit to Srinagar is commemorated by a Gurudwara, Charanpadaka.
Today, Srinagar is an important center of culture and education. It is home to H N Bahuguna Garhwal University (formerly Garhwal University). Srinagar, located at a moderate height, has a flourishing market place and is a significant center for trade and commerce in Garhwal region.
Srinagar has a number of temples and interesting monuments in and around it which are worth visiting. Comfortable boarding and lodging facilities like hotels, Dharamshalas and tourist guest houses are available for people visiting this place.
Srinagar is also important as the last night stop destination for people visiting the holy places of Badrinath and Kedarnath. Besides, Srinagar itself is home to many important Hindu temples like Kamleshwar Mahadev, Kilkileshwar Mahadev and Shankaramath.
Temples In Srinagar
Kamleshwar Mahadev
This temple of Kamleshwar Mahadev is dedicated to Lord Shiva. According to the legend, Lord Vishnu on his visit to this place liked it so much that he decided to pray to Lord Shiva here. Lord Vishnu also decided to offer Lord Shiva 1000 Lotuses (Kamal) as a token of his devotion. He then collected 1000 Lotuses and sat to pray. To test Lord Vishnu's devotion, Lord Shiva quietly hid one of the Lotuses. At the end oh his prayers when Lord Vishnu found one lotus missing, he decided to substitute it with one of his beautiful Lotus-eyes (Lord Visnu is also called 'Kamalnayan' due to his Lotus-like eyes). But before Lord Vishnu could pluck one of his eyes with his sword, Lord Shiva appeared smilingly with the missing Lotus in his hand. To celebrate this incidence a temple was made here, Kamaleshwar (God with Lotus flower).
Kilkileshwar Mahadev
This temple, established by Shankaracharya, the legendry Hindu Guru, dedicated to Lord Shiva, is located on the banks of river Alaknanda
Shankaramath
Shankarmath, with its unique architectural beauty, located at a distance of about 3 Km from main city of Srinagar is believed to be built by Adi Guru Shankaracharya. The central room of the temple has idols of God Vishnu and Goddess Lakshmi.
How To Reach
By road, Srinagar is well connected with major destinations like Pauri (9 Km), Dehradun, Haridwar, Rishikesh and so on. Nearest railhead is at Haridwar (80 Km) and nearest airport is Jolly Grant of Dehradun.