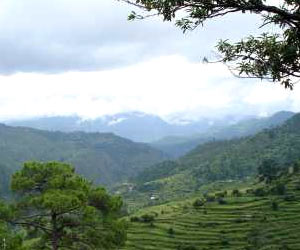 The weather of any place is determined by its location, altitude and surrounding areas, same goes with Pauri Garhwal. The elevation of Pauri Garhwal is 1650 m above sea level which gives the region a sub-temperate weather ranging to a temperate climate, giving Pauri an enjoyable weather right through the year. The diversity though reflects in the varying maximum temperature in the same time period. The maximum temperature documentated in June is 45
o
C at Kotdwar while in Dudhatoli it increases upto 25
o
C only.
The average annual temperature for the Pauri Garhwal region ranges from 25
o
C to 30
o
C. The climate of the region during summers is pleasant. Snowfall throughout the winters is a spectacular characteristic of Pauri.
Best time to visit Pauri Garhwal is between the months of March to November, hence passing up the freezing winters. The best type of clothing that would get you through would be cottons and light woolens in summers and heavy woolens in winters with a pair of sturdy and waterproof shoes.