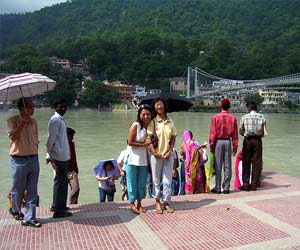 Pauri, situated on the northern slopes of picturesque Kandolia hill ranges of middle Himalayas at the height of 1814 meters above the sea level, is the district headquarters of Pauri Garwal District of Uttarakhand state in India.
Pauri with a population of 24, 743, offers a breathtaking view of snow clad Himalayan peaks like Bander Pooch, Gangotri Group, Kedarnath, Chawkhamba, Neelkanth, Hathiparvat, Nandadevi and Trishul.
Places Of Interest In and Around Pauri
Kyunkaleshwar Temple
Kandolia
Nagdev
Jwalpa Devi
Tarakund
Chilla Wildlife Sanctuary
Dhikala ( A part of Corbett National Park)
Pauri is well connected by road with major towns and cities of the region like, Dehradun, Rishikesh, Haridwar and so on. Tehri-Moradabad State Highway connects major destinations of the district like, Lansdowne, Kotdwar and Srinagar.
Pauri is not an important pilgrim destination but also very popular with casual tourists who seek to retreat from the hustle bustle of the city life into this quite Himalayan abode.
How To Reach
It is well connected by motorable roads with Rishikesh, Kotdwar, Dehradun and other important cities of the region. Nearest railheads are at Rishikesh (117 Km) and Kotdwar (108 Km). Nearest airport is Jolly Grant (Dehradun) which is 155 Km.