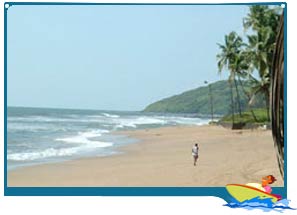 Located 18 km from state capital Panaji, the Anjuna beach enjoys an iconic status for its notorious trance parties and the exotic Wednesday flea market. Throbbing with a multitude of activities, this palm-fringed beach draws tourists and backpackers from all over the world.
If you love to frolic in the sea and crave for a bath in the azure waters, Anjuna beach in Goa is the ideal place for you. The rocky promontory at the southern end of the Anjuna beach keeps the sea calm and you can safely take your plunge. Anjuna is well known for its famous flea market that burst at the seams with an astounding variety of items ranging from artifacts to imported electric gadgets. The flea market is held on Wednesdays and if you are an old hand in the bargaining game, chances are that you will walk away with a handsome deal.
Over the years, Anjuna beach has earned notoriety for the trance parties held on full moon nights. During the 1960s, the beach became a favorite rendezvous for insouciant hippies hell bent on creating a utopia in this planet. Even now people from distant corners of the globe descend on Anjuna beach to let their hair down amidst the bliss of psychedelic trance music.
How to Reach Anjuna Beach
The Anjuna beach is located 8 km west of Mapusa town and 18 km from Panaji, the state capital. Anjuna beach is well connected by regular state and private buses from Panjim and Mapusa. Tourists can also hire motorcycle taxis and auto-rickshaws from Mapusa to reach Anjuna. The nearest railway station is at Karmali 11 km away from Panaji and 29 km from Anjuna.