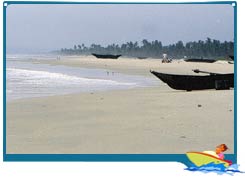 Chapora Beach is counted amongst the most popular as well as the most visited beaches of Goa. It is situated at a distance of approximately 10 km from Mapusa. One of the major attractions of the beach is its boat building and fishing legacy, which seems to be perfectly merged with its booming tourism industry. As you walk down the main street of the beach, you will see as many traditional buildings as the contemporary restaurants, bars and stores. This is what makes Chapora Beach different and more attractive than the other beaches of Goa.
You may visit the beach anytime of the day and any day of the week and you will find it full of tourists, both foreign as well as those from India. The beach is picturesque and offers amazing views of the sunrise as well as the sunset. At Chapora Beach, you can take a lazy walk, soak the sunrays or just play around in the water. Another reason that has contributed to the popularity of the beach is that it provides the perfect access to other beaches and tourist places in Goa. The guesthouses situated nearby solve the problem of accommodation also.
Then, there is the white sand the azure waters of the beach that seem to draw people. Even the food served at the stalls dotting the beach is very delicious, especially the seafood. A number of cafes and restaurants, catering to the demand of western dishes and Chinese dishes, have also sprung up. You can shop for artifacts, antiques and other knick-knacks at the numerous shopping stalls on the Chapora Beach. While there, make sure to visit the Chapora fort, built by the Portuguese approximately 500 years ago.