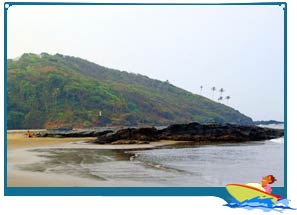 Located 22 km from state capital Panaji, the Vagator beach is a popular beach in Goa. The Vagator beach is part of a 30 km stretch of beach coastline along the west coast of Goa that is home to some of the top-notch Goan beaches such as the Calangute beach and the Anjuna beach.
Although Vagator beach cannot match upto the popularity commanded by its illustrious neighbours, the secluded nature of the beach makes it the perfect destination for a tranquil holiday with only sun, sand and sea for company. The confluence of golden sand doted with black lava rocks and swaying coconut and palm trees provides for an idyllic getaway. The red-laterite structure of the 500-year-old Chapora Fort located nearby presents an enchanting backdrop.
Since the Vagator beach is not a prominent stop in most tourist trails, the necessary structure has yet to come up. Accommodation is limited and the beach is mostly thronged by budget travelers.
How to Reach Vagator Beach There are a number of buses that run from Mapusa and Calangute Beach to Vagator. The nearest interstate bus station is at Mapusa, the KTC bus station.