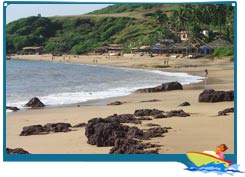 As you move 2 km further from the Colva Beach, you will come across the magnificent Benaulim Beach. As per Hindu mythology, it was here that the arrow of Lord Parasurama landed on earth, when he was creating Goa. The Portuguese corrupted the original name 'Banali', in Sanskrit, and named the beach as 'Benualim'. Benaulim Beach abounds in natural beauty as well as serenity. It is the perfect place to forget all the worldly tensions and indulge yourself. Though a fishing destination, it is still left largely unexplored by the domestic tourists of India.
However, the beach gets a lot of local rush and Goans can be found strolling around its shores in large numbers, in the evening as well as on weekends. The best way to reach Benualim Beach is to go by bus, which drops you approximately one km away, and then walk down. Fringed by palm trees, this beach is well known for the 'Dolphin Cruises' it offers to the visitors. The price of these cruises is pretty reasonable and there are also bright chances of spotting the beautiful creatures in the water.
Just like the other beaches of Goa, Benaulim Beach also has a string of snack joints, serving delicious food. The village of Benualim is as popular as the beach is. Its rosewood furniture and exquisite carvings are renowned throughout the country. There are a number of tourist spots near the beach. One of them is the 'Church of St John the Baptist', which lies on a hill just beyond the village. The major attractions of the church include its exquisite architecture, based on the type Goan Christian style, and the Feast of St John the Baptist (Sao Joao).