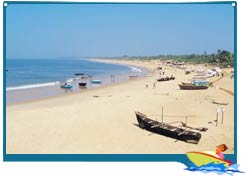 Varca Beach of Goa is situated at a distance of approximately 2 km to the south of the Benaulim Beach. Though the beach is not as popular as the other commercialized beaches in the state, it is not less than any of them in terms of beauty or magnificence. Infact, the low popularity of Varca Beach has resulted in keeping its peace and serenity intact. This makes Varca the perfect destination for all those tourists who are looking for a place to escape from the mundane tensions of the daily life.
The beauty of nature, combined with the melodious gushing of the aqua waters, makes the experience of visiting the beach a memorable one. The palm-thatched houses of the fishermen, which line the Varca Beach of India manage to give it a different look altogether. Adding to the splendor are the black lava rocks that seem to be dotting the landscape. Lining the edges of the beach are the wooden fishing boats of the local fishermen. Varca Beach is quite cleaner than the other renowned beaches of Goa.
With its virgin and spotless beauty, it has started attracting more and more visitors. Other major attractions of the beach comprises of the Dolphin-watching trips, organized on a regular basis. You can also indulge in relaxing and rejuvenating activities at the beach, like sunbathing, yoga, meditation, etc. A number of hotels as well as resorts are available nearby, for accommodation purposes. However, if you want to get a feel of the lifestyle of the Goans, it is better to rent room from the villagers. The best time to visit Varca Beach is from November to March.