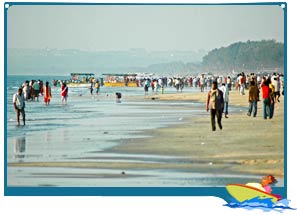 If you want to escape from the din of city life and yearn for a tranquil vacation that would soothe your soul and mind, then head straight for the Colva beach in Goa. Sprawling over an expanse of 20 km, Colva beach is the longest beach in Goa. Miles of golden sand and shades of palm trees conspire to unfold an enchanting landscape all around.
In contrast to overcrowded beaches like Anjuna or Miramar brimming with locals and tourists, the Colva beach comes as a pleasant surprise with its laidback ambience and relatively sparse crowd. The unspoiled environment can be ascribed to the fact that Colva has been one of the later ones off the block, with the necessary tourism infrastructure coming up only lately.
All these attributes make Colva beach the ideal place to unwind amidst captivating surroundings. Take a leisurely stroll or savour lip smacking Goan cuisine in the nearby food stalls. Or else, scour the host of souvenir shops to take back some memorable keepsakes. Accommodation is easily available courtesy a number of beach resorts and hotels.
How to Reach Colva Beach
Buses ply regularly to Colva beach from the from the KTC bus stand, 3 km north of Margao city. One can also avail taxi or autorickshaw services from the town.