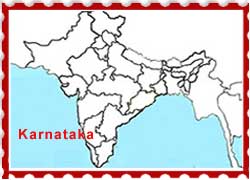 Karnataka is located on the western coast of Peninsular India. Spread over an area of 1, 92,000 square kilometers, Karnataka is situated on a tableland where the Western and Eastern Ghat ranges converge into the Nilgiri hill complex. The state is confined roughly within 11.5 degree North and 18.5 degree North latitudes and 74 degree East and 78.5 degree East longitude.
Karnataka is bordered by Maharashtra and Goa states in the North and North-West; by the Arabian Sea in the West; by Kerala and Tamilnadu states in the South and by the state of Andhra Pradesh in the East. The State spreads to about 750 km from North to South and about 400 km from East to West.
While the 320-km long coastline of the state is dotted with scenic beaches, the lofty hills of Western Ghats nestles numerous trekking trails. A bevy of wildlife sanctuaries host exotic species of flora and fauna.